VJ Originally Designed Ladies' Rings
---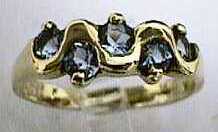 Aquamarine (shown)
or Family Ring (special order)
Five 3+mm round dark blue aquamarines
(0.56 ct tw), set in a 14K yellow gold VJ
original design.
The aquamarine ring, as shown in the photo, is 3.3 grams, size 7-1/2.


R145



Note: Also available as

FAMILY RINGS FOR MOTHER OR GRANDMOTHER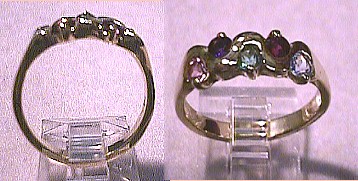 These rings may be special ordered with 3 to 7 stones--synthetic or natural. Please note that most family rings are set with synthetics, due to the difficulty and expense of obtaining properly cut decent quality natural gemstones.

When ordering, please give finger size, birth months desired, and the order that you want the stones inserted in the ring, if any.


Please note that these rings will be custom made for you,
and will be non-returnable
.
Thank you
---