VJ Originally Designed Ladies' Rings
---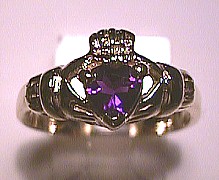 R142 Claddagh Amethyst
(available with other stones)
5mm heart-shaped top quality deep purple
Zambian amethyst, set in a 14K VJ made
14K yellow gold mounting. Finger size &
stone type can be custom ordered.
R142
THE CLADDAGH

This very popular motif dates back 700 years to a little fishing village named Claddagh. An Irishman made a ring and a pendant for his bride to be. The uniquely designed jewelry has hands holding a heart with a crown. The hands symbolize friendship, the heart stands for love, and the crown is for loyalty. As an engagement ring, the crown is worn facing the tip of the finger. After marriage, the crown is reversed and worn facing the hand.

The amethyst ring as shown in the photo, is size 7, and weighs 3.6 grams.

These rings are available special order, sizes 4-8, in the following stones: [Garnet--Arizona "ruby" (chrome pyrope) ] [Garnet--Rhodolite ] ["Swiss" or "London Blue" Topaz] [Citrine ] [Peridot ] [Aquamarine Medium blue ] [Pink Tourmaline (very limited quantity) ] [Lab grown Ruby--fine synthetic) ] [Simulated birthstones (synthetic--sapphire or spinel)]




Note that these rings will be custom-made for you, and will be non-returnable.
Thank you.
---
---
email: jhurd@valleyjewelers.com
---
---