Pendants--VJ Original & Factory Mounts
---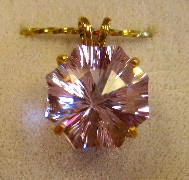 Octagonal-Shaped Amethyst
12.6mm fine, bright Rose-de-France amethyst, precision custom "concave" cut in a octagonal shape by our Chinese cutting house.
Weighing 6.12 carats, and set in a heavy 14K yellow gold 4-prong factory-made "basket" style mounting, it is a rarity which may never come our way again.
Very fine stone cutting--most stones are cut in 4, 6, or 8-fold symmetry because it is easy to divide a circle into that many degrees (90, 60, 45 respectively) for each symmetry section. Concave cutting involves cutting into the bottom (pavilion) side of the stone (as opposed to flat facets), which gives superior brilliance to the stone, but is more expensive to accomplish.
An excellent buy!


Click here for larger photo
---
---
---
email: jhurd@valleyjewelers.com
---
---