---
JUNE:


PEARL,
ALEXANDRITE
---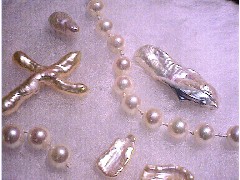 Pearls can be saltwater or freshwater. Most pearls sold today are "cultured," which means that they are formed around a shell "seed" that has been inserted into the mollusk. Salt water pearls are generally formed singly in an oyster, while freshwater pearls are formed from multiple seeds in a mussel. Colored pearls may be natural, but many colored pearls, especially freshwater, appear to be dyed--the prudent buyer should be aware of this fact, and be sure to inquire as to the origin of color.



Pearl FAQ
More information about Pearls
Much more information about pearls
---
---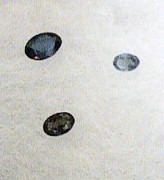 Alexandrite is an extremely rare gemstone of the chrysoberyl species, which was first discovered in the Ural Mountains of Russia in 1830, on the day that Prince Alexander came of age. In daylight (or fluoscent light) it can appear almost emerald green, but is more often blue green to yellowish green. Under incandescent light, the finest gems appear red to purplish red, although most stones appear in the pinkish brown to reddish brown range.


More information about alexandrite
---
---
email: jhurd@valleyjewelers.com
---
---
VALLEY JEWELERS
1175-D ARNOLD DRIVE
MARTINEZ, CA 94553

Phone/Fax: 925-313-9335