Birthstone Information
---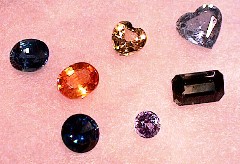 SEPTEMBER:

SAPPHIRE
---
Sapphire, like ruby, is the mineral corundum (aluminum oxide). All colors of corundum other than red are, by definition, sapphire. All colors other than blue are known as "fancy" sapphires. Sapphires come in every color of the rainbow (except "ruby" red), usually with different colors on different crystal axes. At times, two or more colors occur on the same crystal axis, producing varieties known as "parti-color" sapphires.
With a hardness of 9 and no cleavage, sapphire makes an excellent ring stone for a man as well as a woman.
The primary present sources for sapphires include Australia, Sri Lanka (Ceylon) and Thailand. Secondary sources are Myanmar, Kampuchea, several areas in East Africa, and Montana in the United States. Sapphires are routinely heat-treated to alleviate cloudiness ("silk") caused by very fine rutile crystal inclusions, and to improve color--treatment is permanent.

More sapphire information
---
---
---
email: jhurd@valleyjewelers.com
---
---