Pendants--VJ Original & Factory Mounts
---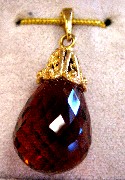 Madeira Citrine Briolette
Beautiful root-beer color Madeira citrine briolette measuring approximately 21 x 13mm, and weighing 19.51 carats.
The 14K filagree cap is custom cast by Valley Jewelers, and is held by a gold wire through a drill hole in the stone.
The gold wire is welded to both sides of the cap. The bail assembly is custom fabricated from USA made parts
and is exclusive to Valley Jewelers (unless someone copies our design).
P252
Click here for larger photo
---
email: jhurd@valleyjewelers.com
---
---