Pendants--VJ Original & Factory Mounts
---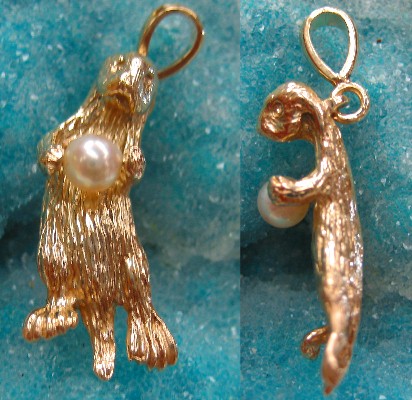 This cute hand-made 14 karat gold pendant is SOLID and sturdy, not hollow and easily crushed (or with the back hollowed out to save weight) like most charms that you see for sale at department stores, etc.

The sea otter (we call him "Otto"--what else?) measures 1 inch high from head to tail (not including the bail, which adds another 1/4 inch), and weighs 5.0 grams,

Otto holds a genuine high luster white akoya (saltwater) pearl in his paws. Other gemstones can be placed in the paws by special order and cost quotation.

This otter is a very limited production item, since we do make them one by one, with attention to detail. For that reason, when ordering other than a white pearl, please give us an extra 10 days to make it for you.

Note that the pearl is not glued in--we drill the paws, pass a gold wire through the paws and pearl, then weld and retexture the paws.
We make sure that Otto never drops his pearl!
P324 "Otto"
Click here for larger photo
---
email: jhurd@valleyjewelers.com
---
---