Pendants--VJ Original & Factory Mounts
---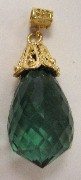 Chrome Green Quartz Briolette
14K yellow gold custom VJ made pendant, with tube bail that will accomodate up to a 3mm chain.
A gold wire, inserted through a drill hole in the briolette and welded on both ends, holds the stone to the cap.
The beautiful green quartz briolette measures 24 x 13mm, and weighs 21 carats.
P15
---
---
email: jhurd@valleyjewelers.com
---
---